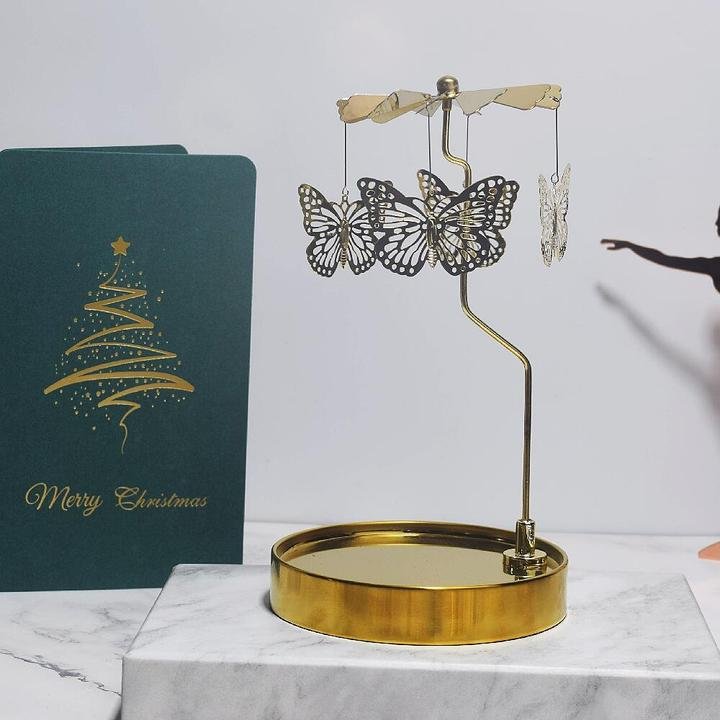 Thermal rotating candle holder - the heat generated by the burning candle will drive the fan to rotate. The idea was inspired by hot air balloons and merry-go-rounds. No batteries are needed and the pendant will dance with the light in a dark environment. The rotating candelabra will create a wonderful party for you!
Exquisite workmanship - Made from high quality metal, the rotating candle holder is durable enough to last for a long time. Moreover, the candle holder has a smooth and bright surface with an electroplated finish that does not fade or rust easily.
Easy to install and strong magnetic design - The whole rotating tea light candle holder consists of 5 separate parts: a tray, a fan, a support rod, 4 angel pendants, and 4 hooks. You need to assemble them all together. First, place the support bar on the tray. There is a small magnet at the bottom of the support rod to hold it firmly in place on the tray. Then place the fan on the top of the rod and use the hook to hang the angel pendant from the fan blades. Finally, you can enjoy a romantic evening.
Multiple uses - As well as holding candles, the tray of the rotating candle holder can also be used as a free-standing metal storage for small items such as earrings, necklaces, jewellery, keys, hair brushes and cosmetics. Perfect for organising dressers and bedside tables.
Wide range of applications - The rotating tea light candle holder creates a relaxed and romantic atmosphere and is an ideal gift choice for any occasion. It is also perfect for decorating Christmas, wedding, Thanksgiving, birthday, New Year, Valentine's Day, family gathering party and home decoration.